Chuck Fest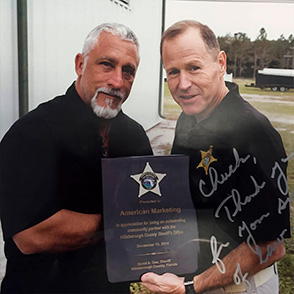 Chuck Fest is owner and Chief Executive Officer of Fest Corporation, the parent company that manages American Marketing & Mailing Services, American Visual Brands, and American Partner Solutions. With the support of his friends and family, he opened AMMS in 1994 with goals to streamline direct marketing with digital solutions. Chuck has been a visionary in the direct mail industry and has catapulted the company into the marketing leader it is today offering full-service campaigns with excellent results.
Chuck takes great pride in giving back to the community and is a solid supporter of many national and local charities, especially those committed to serving veterans, disabled children, and underprivileged families.
He is also the father of three successful adult children, Matthew, Amanda, Samantha, and his English Bulldog, Harley. On weekends, he enjoys riding his motorcycles, boating, adventures in his RV, concerts and sporting events with friends.
Go Bills, Lightning, and Yankees!