Rick Davis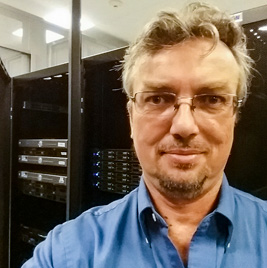 Vice President of Engineering
Rick Davis's professional technology career has spanned over 30 years.  He is the lead software architect and operations manager responsible for custom software developed by American Marketing. Rick chooses the technology and ensures the infrastructure meets security requirements.  He and his team write the software that has given us the competitive advantage.  Over the last 12 years, Rick has helped American Marketing grow from a single server into the platform it is today.
Prior to moving to Tampa, Rick spent 11 years working for Microsoft on their various Redmond campuses. While at Microsoft he worked on multiple data center operation teams responsible for core corporate infrastructure and MSN core services.  On each team he became the tier 3 escalation engineer with full data center access on call 24×7 basis.
Rick was born in the Napa Valley and raised in eastern Washington state. He has since lived in multiple states including California, Washington, Texas, and Arizona before landing in Florida. He has a passion for aviation and all things flying.  As a private pilot, he has over 400 hours as pilot of his own plane.